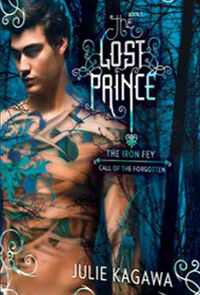 The Lost Prince has finally come out!! The reviews are slim pickings but here is what we found for you in case you are wondering if you should read the book or not!
"I loved seeing my favorite characters, Grimalkin and Puck, along with Meghan, Ash, and Razor, come together again for another fun dangerous adventure. The action is truly non-stop while keeping you guessing as to who is behind everything...and who is who." - Amazon review
"I will say that Julie Kagawa is a master at world building. We are reintroduced to the Nevernever again, and her descriptions of the landscape and the inhabitants is just as amazing and detailed as it was in the Iron Fey series. I could listen to her world descriptions all day long. She has a way of painting the world with her words. A new group of fey are introduced in this book, and she does a masterful job of describing them to make them sufficiently mysterious and creepy." - Amazon Review
"As a fan of The Iron Fey series, I had very high expectation for The Lost Prince, and I was breathlessly waiting for the book to come out quickly. And, I was again spellbound by my favorite storyteller, author Julie Kagawa. Her gorgeous prose and amazing story weaving kept me hooked on the book until late night. Any Iron Fey fan in any corner of the world wouldn't dare to miss the book, and I bet my money on that." - Goodreads Review
Not really any "professional" reviews but sounds like this new spin off to the Iron Fey series is going to be great! There hasn't been anything so far about the book being terrible, and, if you liked the Iron Fey series, it seems like you will like this new series too!
If you've read Ethan Chase's story, leave us your own reviews below!
Did you like The Lost Prince?
---
---